The sudden need to recruit more recruiters
Jobs are on the rise. You've no doubt felt it and WaveTrackR data confirms it. In fact, they seem to be on an unstoppable upwards trajectory, climbing to a massive 254% above the 2020 monthly average in July. Great news for recruiters. However, with a continuous uplift in jobs, there comes a dilemma for many agencies. Not enough staff, especially as a large number of recruitment businesses were forced to make redundancies earlier in the pandemic when much of the industry was slammed. Because of this, we are seeing a huge rise in recruiter jobs and we're not the only ones. Like us, LinkedIn research has found recruiter job postings around the globe and across industries have steadily increased since the start of the year and have now risen above pre-pandemic levels.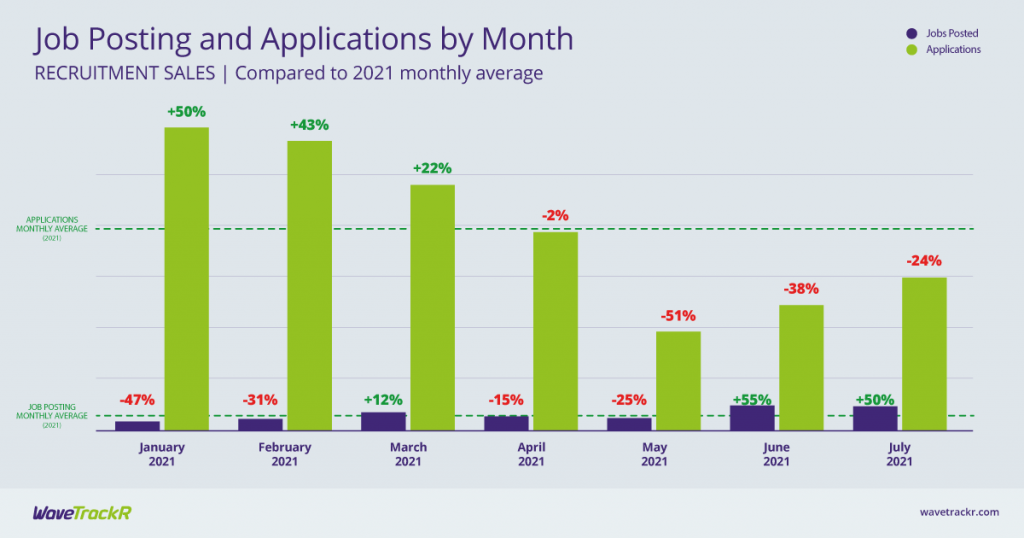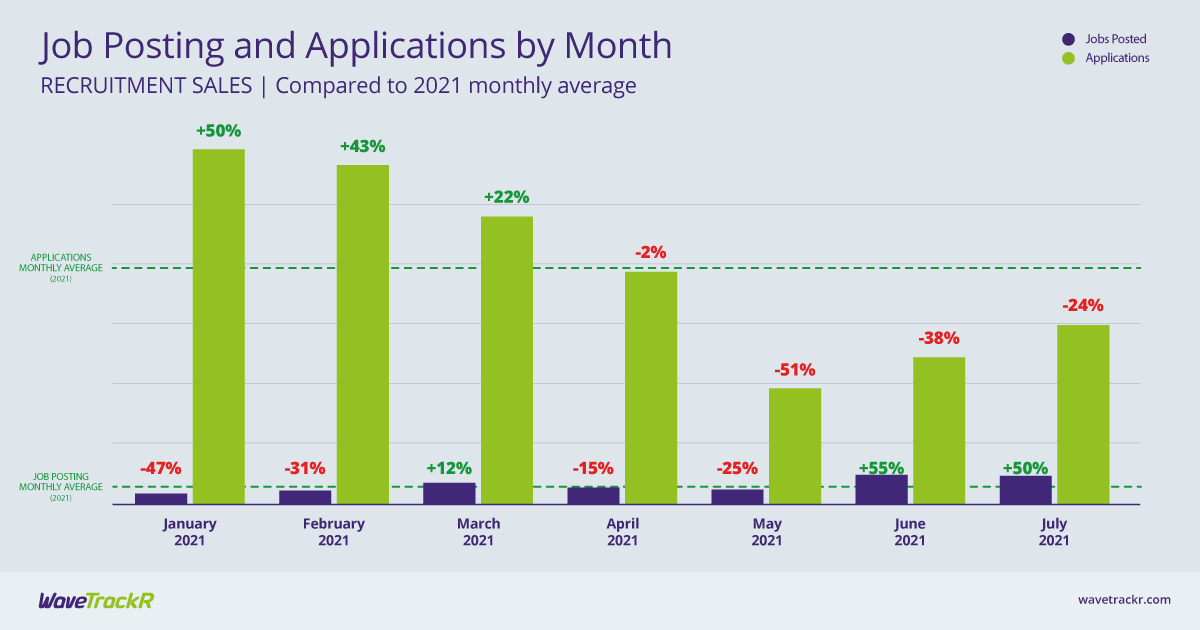 We all know how tough 2020 was for the Recruitment industry. During the first lockdown the majority of industries enacted a hiring freeze, forcing many recruitment agencies to place staff on furlough or make redundancies. A survey of REC member businesses found that 47% of respondents made redundancies between March and November 2020. The situation only improved slightly as the year progressed. Our Recruitment Trends: Lockdown Report 2021 found that average applications per job in Recruitment Sales soared in the final quarter of 2020 but jobs remained low. However, from January 2021 we start to see the average number of  applications per job decline, from a massive 166 in December 2020 to 98 in January 2021. That trend continues steadily and by June Recruitment Sales has vanished from the 5 industries receiving the highest numbers of average applications per job.
WaveTrackR data has showed that Recruitment Sales posted higher numbers of jobs in June and July than in any other month this year – and by quite some margin. Meanwhile, applications are low.   
Jobs across the board have grown over the past 8 months but recruiter jobs have grown at a greater pace than the job market overall. And of course the health of the recruiter jobs market is a great indicator of the market in general. If Recruitment is doing well and needing to hire staff at the greatest rate we have seen in years, the jobs market must be booming.
As Freedom Day heralded the end of all restrictions, every area of the economy re-opens, and vaccination roll-out and uptake continues to fly, business confidence is soaring. Economic recovery is picking up pace and economists have already revised their forecasts to predict that we will have returned to pre-pandemic levels by the end of 2021 – far earlier than previously postured. Because of this, and the jobs boom that goes hand-in-hand with it, demand from recruitment businesses for recruiters to join their teams is incredibly high.
Many of those recruiters made redundant last year have since been sourced so what can recruitment businesses now do to attract talented recruiters?
Getting your job ad right is so important. We go on about it all the time but there is a good reason for that – paying attention to keywords, sticking to conventional job titles, getting the word count right, only including true must-haves, emphasising non-financial benefits such as flexible working and mental health initiatives, all make a huge difference to whether quality candidates even see your job ad. Next, you need to get your job ad in the right place at the right time – WaveTrackR's recommendations system can help with that, advising which job boards are best for your job ad and what the best time to post is based on when candidates will be most actively searching for jobs.
There may be a scramble for recruiters now – which comes with its own set of issues – but it is positive news for the industry as a whole as it highlights the strength of the jobs market and the economy. We're in a far better place right now than we've been since before the pandemic hit and that is a very good place to be indeed.